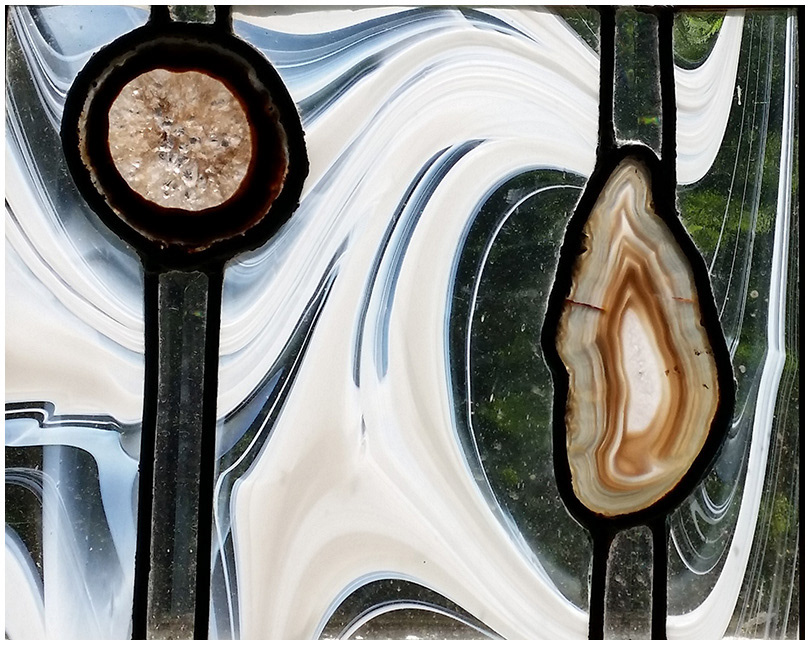 Commissioned Stained Glass

Opalescent glass
The term "opalescent glass" is commonly used to describe glass where more than one color is present, being fused during the manufacture, as against flashed glass in which two colors may be laminated, or silver stained glass where a solution of silver nitrate is superficially applied, turning red glass to orange and blue glass to green. Some opalescent glass was used by several stained glass studios in England from the 1860s and 1870s onwards, notably Heaton, Butler and Bayne. Its use became increasingly common. Opalescent glass is the basis for the range of glasses created by Tiffany.
Stained glass, as an art form, reached its height in the Middle Ages when it became a major pictorial form used to illustrate the narratives of the Bible to a largely illiterate populace.
In the Romanesque and Early Gothic period, from about 950 AD to 1240 AD, the untraceried windows demanded large expanses of glass which of necessity were supported by robust iron frames, such as may be seen at Chartres Cathedral and at the eastern end of Canterbury Cathedral. As Gothic architecture developed into a more ornate form, windows grew larger, affording greater illumination to the interiors, but were divided into sections by vertical shafts and tracery of stone. This elaboration of form reached its height of complexity in the Flamboyant style in Europe, and windows grew still larger with the development of the Perpendicular style in England.
Integrated with the lofty verticals of Gothic cathedrals and parish churches, glass designs became more daring. The circular form, or rose window, developed in France from relatively simple windows with openings pierced through slabs of thin stone to wheel windows, as exemplified by the West front of Chartres Cathedral, and ultimately to designs of enormous complexity, the tracery being drafted from hundreds of different points, such as those at Sainte-Chapelle, Paris and the "Bishop's Eye" at Lincoln Cathedral.
While stained glass was widely manufactured, Chartres in France was the greatest centre of stained glass manufacture, producing glass of unrivalled quality.