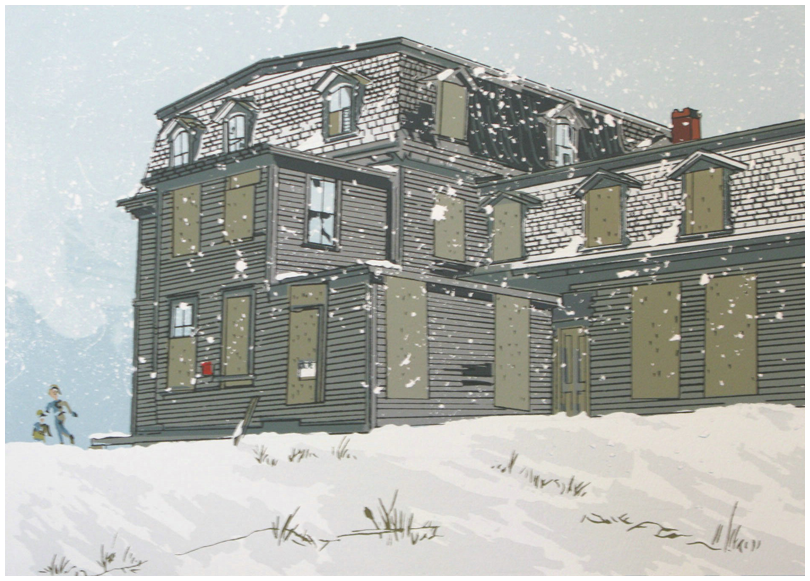 Limited Edition Serigraph - the Americas
Silk Screens BLOCK ISLAND SERIES
Block Island with a land area of 9.734 square miles is part of the U.S. state of Rhode Island, named after the Dutch explorer Adriaen Block. It is located in the Atlantic Ocean about 14 miles east of Montauk Point, Long Island, New York, and 13 miles south of the coast of mainland Rhode Island, from which it is separated by Block Island Sound.
The Block Island Series consists of five silk screens in the Summer Series and five in the Winter Series. Each print, summer and winter depicts the same location, but from a different vantage point.
Block Island's rough seas and rocky coastlines would certainly have claimed more ships were it not for two lighthouses. Block Island North Light, on the northern tip of the island, and Block Island Southeast Light, on the southeastern side.
The Southeast Lighthouse made national headlines in the early nineties when, after years of erosion, it found itself just 50 feet from the cliff's edge. Islanders banded together to save the beloved structure, raising nearly $2 million in federal and private grants and donations to move the lighthouse 245 feet back from the bluff.
Much of the northwestern tip of the island is an undeveloped natural area and resting stop for birds along the Atlantic Flyway.
No history of Block Island would be complete without mentioning shipwrecks. While some have become the stuff of legend; including the Steamer Larchmont. In 1738 the wreck of the Princess Augusta (also known as the Palatine ship) was later immortalized by John Greenleaf Whittier in his 1867 poem "The Wreck of the Palatine":
Two submarines also sank off of Block Island: the United States Navy USS S-51 in 1925 and the German submarine U-853 in 1945, lying in 130 feet of water 7 miles east of the island.