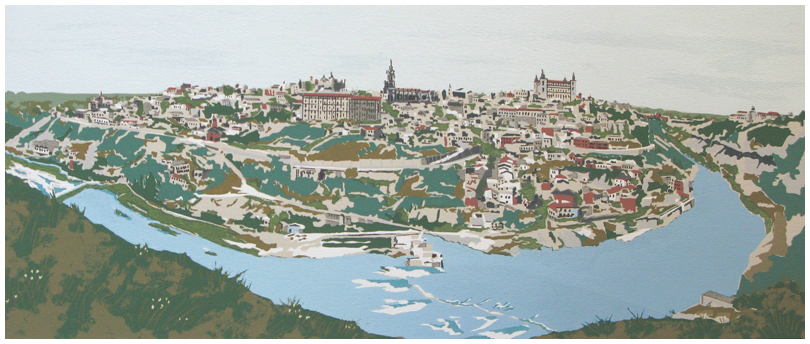 Limited Edition Serigraphs

Four artists that have influenced my thinking, among others, were El Greco, Joaquin Sorolla Goya, Andrew Wyeth and Pablo Picasso.

Overlooking the river Tagus, El Greco portrays the city he lived and worked in for most of his life. The serigraph THE VIEW OF TOLEDO by J. Neil Bittner was taken from the same vantage point as El Greco in his drawings and paintings The Vista de Toledo where El Greco's view of the eastern section of Toledo from the north would have excluded the cathedral, which the artist therefore imaginatively moved to the left of the Alcázar (the royal palace). Other buildings represented in the painting include the ancient Alcántara Bridge, and on the other side of the river Tagus, the Castle of San Servando.
Doménikos Theotokópoulos (Greek: Δομήνικος Θεοτοκόπουλος [ðoˈminikos θeotoˈkopulos]; 1541 – 7 April 1614), most widely known as El Greco (pronounced: [el ˈgɾeko]; Spanish for "The Greek"), was a painter, sculptor and architect of the Spanish Renaissance. The nickname "El Greco" refers both to his Greek origin and Spanish citizenship. The artist normally signed his paintings with his full birth name in Greek letters, Δομήνικος Θεοτοκόπουλος (Doménikos Theotokópoulos), often adding the word Κρής (Krēs, "Cretan").

El Greco was born in Crete, which was at that time part of the Republic of Venice, and the center of Post-Byzantine art. He trained and became a master within that tradition before traveling at age 26 to Venice, as other Greek artists had done. In 1570 he moved to Rome, where he opened a workshop and executed a series of works. During his stay in Italy, El Greco enriched his style with elements of Mannerism and of the Venetian Renaissance. In 1577, he moved to Toledo, Spain, where he lived and worked until his death. In Toledo, El Greco received several major commissions and produced his best-known paintings.
El Greco's dramatic and expressionistic style was met with puzzlement by his contemporaries but found appreciation in the 20th century. El Greco is regarded as a precursor of both Expressionism and Cubism, while his personality and works were a source of inspiration for poets and writers such as Rainer Maria Rilke and Nikos Kazantzakis. El Greco has been characterized by modern scholars as an artist so individual that he belongs to no conventional school. He is best known for tortuously elongated figures and often fantastic or phantasmagorical pigmentation, marrying Byzantine traditions with those of Western painting.

In 1577, El Greco migrated to Madrid, then to Toledo, where he produced his mature works. At the time, Toledo was the religious capital of Spain and a populous city with "an illustrious past, a prosperous present and an uncertain future". In Rome, El Greco had earned the respect of some intellectuals, but was also facing the hostility of certain art critics. During the 1570s the huge monastery-palace of El Escorial was still under construction and Philip II of Spain was experiencing difficulties in finding good artists for the many large paintings required to decorate it. Titian was dead, and Tintoretto, Veronese and Anthonis Mor all refused to come to Spain. Philip had to rely on the lesser talent of Juan Fernández de Navarrete, of whose gravedad y decoro ("seriousness and decorum") the king approved. However, Fernández died in 1579; the moment should have been ideal for El Greco.
Through Clovio and Orsini, El Greco met Benito Arias Montano, a Spanish humanist and agent of Philip; Pedro Chacón, a clergyman; and Luis de Castilla, son of Diego de Castilla, the dean of the Cathedral of Toledo. El Greco's friendship with Castilla would secure his first large commissions in Toledo. He arrived in Toledo by July 1577, and signed contracts for a group of paintings that was to adorn the church of Santo Domingo el Antiguo in Toledo and for the renowned El Espolio. By September 1579 he had completed nine paintings for Santo Domingo, including The Trinity and The Assumption of the Virgin. These works would establish the painter's reputation in Toledo.
El Greco did not plan to settle permanently in Toledo, since his final aim was to win the favor of Philip and make his mark in his court. Indeed, he did manage to secure two important commissions from the monarch: Allegory of the Holy League and Martyrdom of St. Maurice. However, the king did not like these works and placed the St Maurice altarpiece in the chapter-house rather than the intended chapel. He gave no further commissions to El Greco. The exact reasons for the king's dissatisfaction remain unclear. Some scholars have suggested that Philip did not like the inclusion of living persons in a religious scene; some others that El Greco's works violated a basic rule of the Counter-Reformation, namely that in the image the content was paramount rather than the style. Philip took a close interest in his artistic commissions, and had very decided tastes; a long sought-after sculpted Crucifixion by Benvenuto Cellini also failed to please when it arrived, and was likewise exiled to a less prominent place. Philip's next experiment, with Federico Zuccari was even less successful. In any case, Philip's dissatisfaction ended any hopes of royal patronage El Greco may have had.
The Burial of the Count of Orgaz (1586–1588, oil on canvas, 480 × 360 cm, Santo Tomé, Toledo), now El Greco's best known work, illustrates a popular local legend. An exceptionally large painting, it is clearly divided into two zones: the heavenly above and the terrestrial below, brought together compositionally.
Lacking the favor of the king, El Greco was obliged to remain in Toledo, where he had been received in 1577 as a great painter. According to Hortensio Félix Paravicino, a 17th-century Spanish preacher and poet, "Crete gave him life and the painter's craft, Toledo a better homeland, where through Death he began to achieve eternal life." In 1585, he appears to have hired an assistant, Italian painter Francisco Preboste, and to have established a workshop capable of producing altar frames and statues as well as paintings. On 12 March 1586 he obtained the commission for The Burial of the Count of Orgaz, now his best-known work.
The decade 1597 to 1607 was a period of intense activity for El Greco. During these years he received several major commissions, and his workshop created pictorial and sculptural ensembles for a variety of religious institutions. Among his major commissions of this period were three altars for the Chapel of San José in Toledo (1597–1599); three paintings (1596–1600) for the Colegio de Doña María de Aragon, an Augustinian monastery in Madrid, and the high altar, four lateral altars, and the painting St. Ildefonso for the Capilla Mayor of the Hospital de la Caridad (Hospital of Charity) at Illescas (1603–1605). The minutes of the commission of The Virgin of the Immaculate Conception (1607–1613), which were composed by the personnel of the municipality, describe El Greco as "one of the greatest men in both this kingdom and outside it".
Between 1607 and 1608 El Greco was involved in a protracted legal dispute with the authorities of the Hospital of Charity at Illescas concerning payment for his work, which included painting, sculpture and architecture; this and other legal disputes contributed to the economic difficulties he experienced towards the end of his life. In 1608, he received his last major commission: for the Hospital of Saint John the Baptist in Toledo.
El Greco made Toledo his home. Surviving contracts mention him as the tenant from 1585 onwards of a complex consisting of three apartments and twenty-four rooms which belonged to the Marquis de Villena. It was in these apartments, which also served as his workshop, that he passed the rest of his life, painting and studying. He lived in considerable style, sometimes employing musicians to play whilst he dined. It is not confirmed whether he lived with his Spanish female companion, Jerónima de Las Cuevas, whom he probably never married. She was the mother of his only son, Jorge Manuel, born in 1578, who also became a painter, assisted his father, and continued to repeat his compositions for many years after he inherited the studio. In 1604, Jorge Manuel and Alfonsa de los Morales gave birth to El Greco's grandson, Gabriel, who was baptized by Gregorio Angulo, governor of Toledo and a personal friend of the artist.
During the course of the execution of a commission for the Hospital Tavera, El Greco fell seriously ill, and a month later, on 7 April 1614, he died. A few days earlier, on 31 March, he had directed that his son should have the power to make his will. Two Greeks, friends of the painter, witnessed this last will and testament (El Greco never lost touch with his Greek origins). He was buried in the Church of Santo Domingo el Antiguo, aged 73.