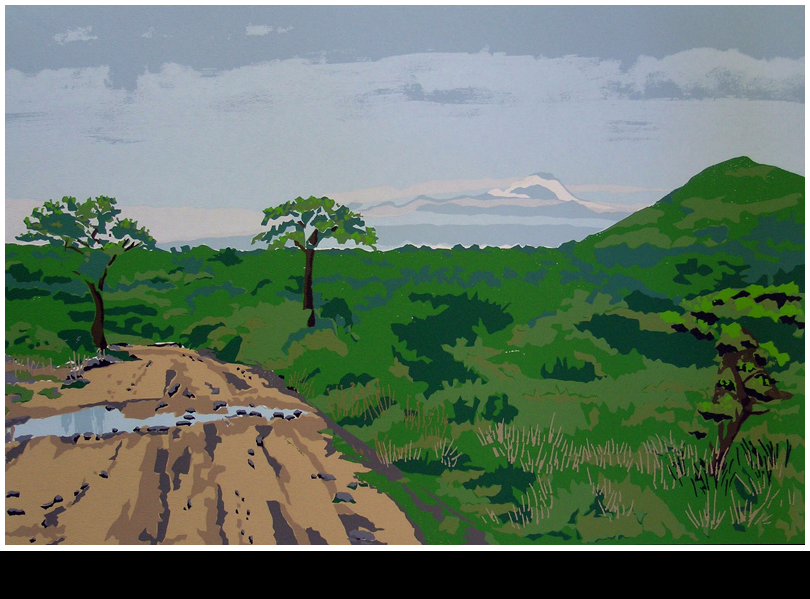 Limited Edition Serigraph

I silk screened the mud hole my Land Rover sank into and had to be extradited from. It was very early in the morning; we were following large fresh lion footmarks besides the dirt road, sometimes these guys like trudging along the road away from the tall encumbering grass. As the truck pulled away and left me standing there it brought back memories of  a film "The Ghost and the Darkness" where just two lions, ate their way through 140 railway workers in a single year during the 19th century! The surviving workers soon decided that the lions had to be ghosts or devils.

Couldn't sleep, the mountain kept calling me.
At 5 a.m. this morning I silk screened snow atop Mt. Kilimanjaro off in the distance.
Jambo everyone, just printed my sixth color on the silk screen "KILIMANJARO". I re-read the book "The Man-eaters of Tsavo".
Remembering my photography students having a difficult time photographing "FOG".  Today I silk screened the mist that can, at a turn of the head, shroud Mt. Kilimanjaro erasing all sense of direction.
Finished my 8th color on "KILIMANJARO", the lush green of the rolling volcanic landscape.
Under the shadow of Kilimanjaro grow the Tamarind trees from over a hundred years ago, my 10th color printed.
Carpeted in long grass and dense African bush, the foreground frames the 5895 meter Mt. Kilimanjaro off in the distance. Four more colors printed.
And that process only took me two months.